Where Are We?
Participating artists: Lin Tianmiao, Liu Jianhua, Liu Wei, Qiu Zhijie, Wang Bo (Pisan), Wang Gongxin, Yan Lei, Zeng Hao, Zeng Li, Zhang Peili, Zhou Tiehai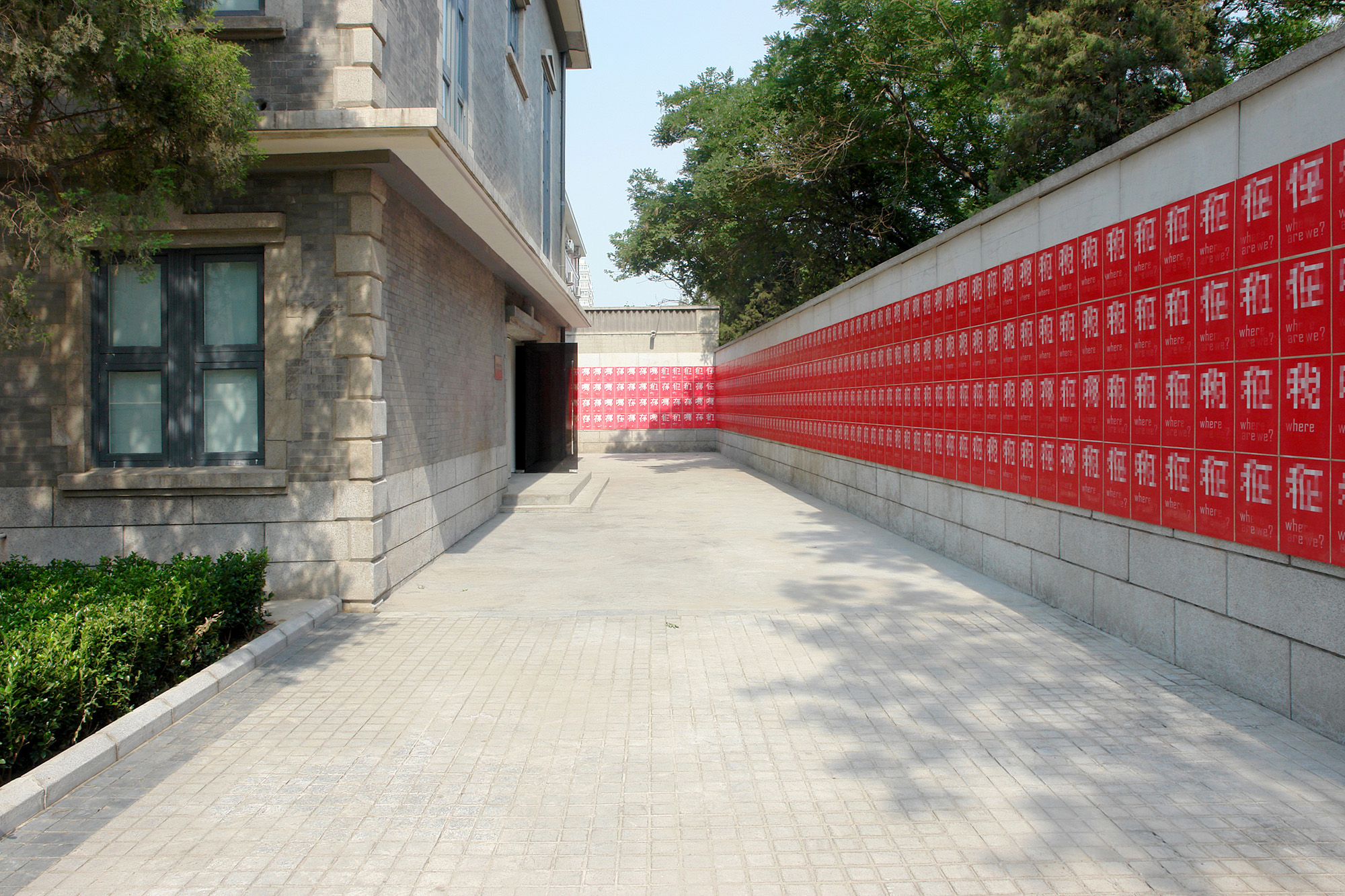 After over two years of careful planning, design, and development, the grand opening of the Beijing Center for the Arts will be on May 24, 2008. The site of the Ch'ien Men 23 project is an important historic landmark of Beijing, consisting of five former diplomatic buildings surrounding a large central lawn. Located on the southeast corner of Tian'an men Square Ch'ien Men 23 occupies the entire compound that was the Qing Dynasty United States Embassy which is 16,000sqm and was originally built in 1903. The developer behind Ch'ien Men 23, Mr. Handel Lee, who is the founder/developer of Shanghai's Three on the Bund. Guided by his longstanding commitment to see "culture as the cutting edge of society" Mr. Lee has turned his attention towards Beijing. His aim is to establish a cultural and lifestyle gathering place in the heart of China's Capital.
Ch'ien Men 23
Ch'ien Men 23 builds its reputation by combining a refined luxury lifestyle with artistic innovation and cultural discourse. On the one hand, it brings together an international group of world-class restaurants such as Maison Boulud (French, a Michelin two-star restaurant), Shiro Matsui (Japanese cuisine), and Sadler (Italian, a Michelin two-star restaurant), as well as the Patek Philippe flagship boutique, the Wine Connoisseur Club, and other intimate lounge-bars and night spots. On the other hand, it contains a museum-quality center of contemporary art, hosting creative talents in the visual arts, drama, music, dance, and film from China and around the world. Integrating both lifestyle venues with sophisticated culture and art programs and spaces within one complex, Ch'ien Men 23 will become the gathering place for Beijing's Society to revel in elegant lifestyle. And with Beijing Center for the Arts at its foundation, Ch'ien Men 23 will also become a new focal point of the passionate dialogue between China's deeply-rooted traditional past and its surging dynamic present.
Beijing Center for the Arts
At the core of Ch'ien Men 23's concept lies the belief that China needs to re-possess its history and art and that Beijing's urban center needs to re-present itself as a vessel for cultural innovation. This is why Mr. Handel Lee calls the Beijing Center for the Arts the Ch'ien Men 23's heart and soul. The Beijing Center for the Arts includes a 1,600sqm art gallery, a 700sqm multifunctional repertory theater space with 8 meter ceilings making it suitable for various forms of performance art, be it drama music, dance, or film. Ms. Weng Ling, the Director of the BCA, says "we strive to become the ideal and most active space focused on discovering and nurturing excellent contemporary Chinese art; to become a platform for interdisciplinary and international exchanges that sustain contemporary Chinese artistic thinking and creativity; to become a bridge between art and the public and encourage their sincere and positive dialogue."
Ms. Weng Ling has successfully managed the gallery of the Central Academy of Fine Arts in the mid-1990s, and then worked with Mr.Handel Lee to establish the Shanghai Gallery ofArt at Three on the Bund. With her unique curatorial vision, these artistic spaces consistently remained the most enthusiastic and wide-ranging venues showcasing prominent contemporary Chinese artwork. In 2001, with the exhibition New Images: Twenty Years of Contemporary Chinese Painting, which traveled to Beijing, Shanghai, Chengdu, and Guangzhou, Ms. Weng became the first person to bring a large group of contemporary Chinese paintings to China's national museums. Now, as Chinese contemporary art becomes increasingly commercialized, she intends on creating a more stimulating and wide-ranging artistic space and continuing, through the Beijing Center for the Arts, to support and motivate contemporary Chinese artistic thinking, exploration, and creation. Working together with Mr. Handel Lee on the Beijing Center for the Arts gives her vision of "allowing contemporary art to be integrated into urban development and to become a real driver behind social progress".
Inaugural Exhibition: Where Are We?
Where Are We? is the question that the Beijing Center for the Arts posed to itself as it began planning its inaugural exhibition. It is also a solemn question directed at the state of contemporary Chinese art. In recent years, contemporary Chinese art has fetched higher and higher prices in international auctions, a phenomenon accompanied by huge monetary investments on the one hand and fears about sustainability on the other. Chinese art over the past two decades has overcome many obstacles, such as marginalization and anti-mainstream movements. Now, as the pressures of commercialization and fashion become increasingly strong, we have the responsibility to confront reality earnestly and deal with the future of Chinese contemporary art with practical measures.
Throughout their work, Ms. Weng Ling and her team have continuously sought to answer the fundamental questions of art and strived to create a productive critical discourse for contemporary Chinese art. This is the tradition they are bringing with them to the Beijing Center for the Arts.
Held from May 24 through July 15, 2008, the inaugural exhibition Where Are We? will feature the following twelve participating artists: Lin Tianmiao, Liu Jianhua, Liu Wei, Qiu Zhijie, Wang Bo (Pi San), Wang Gongxin,Wang Jianwei,Yan Lei, Zeng Hao, Zeng Li, Zhang Peili, Zhou Tiehai.The twelve participating artists all have distinctive personalities and styles, but they are united in their commitment to the expression of artistic thinking and their shunning of the superficial style so widespread today.
As a female artist (although she denies the significance of her gender), Lin Tianmiao reveals the struggles between art and life and the conflicts between daily experience and social existence. Liu Jianhua's installation of ordinary objects laid out on a giant beach offers an objective reflection of social change. Liu Wei's rich and varied media expressions are a sensitive reflections by a young artist on the external world on which his survival depends, be it city or society. Qiu Zhijie uses the Nanjing Yangtze River Bridge as a documentary subject, tearing away the veil of romantic myth that has long surrounded this triumph of early PRC engineering and exposing long-ignored realities. Unifying different elements in a single discourse, Wang Jianwei breaks the unity of space and time and muddles logic and concept, allowing the spectator to experience a multidimensional world. Wang Bo mixes documentary with animation to "narrate" the realities and fantasies of a daydreaming everyman. Wang Gongxin emphasizes technology and the logic of bringing concepts into reality, exposing and challenging once more the complicated struggle between daily experience and the Real. Yan Lei resurrects the perfection and dazzling colors of craft, hinting at the dialectic between beginning and end and the contest between general rules and individual values. Through direct, matter-of-fact depiction of everyday life, Zeng Hao inspires thinking about reality and virtuality as well as longings for and worries about spiritual life. Zeng Li's calm and honest camera dispassionately records the changes in modern urban environments. Zhang Peili's water (using an LCD screen) comes and goes in echo with the changing environment, revealing a sensitive and game-like research of our position within the natural world. In this display, Zhou Tiehai's trademark "camel man" becomes black and white, sharpening his critique of the state of consciousness caught between Eastern and Western cultural environments.
Who are we? Where are we? And where are we going? These simple and fundamental questions arise when we are stripped down and are faced with the reality of our bare selves. Ms. Weng Ling sincerely hopes that this topic will move other artists to return to the origins of art and draw from it encouragement to create and to innovate. Furthermore, as someone who has always championed interdisciplinary exchange, Ms. Weng has organized a symposium accompanying "Where are We?" that will extend the discussion into other academic, cultural, and commercial realms and into the mass media, hopefully inspiring further honest and probing self-reflection and critical thinking. We look forward to seeing you there.