Omni-dimensional Design in China
Venue: Beijing Center for the Arts, No.23 Qianmen East Street, Dongcheng District, Beijing
Organizers: Beijing Center for the Arts, FAW-Volkswagen Audi China, Travel Channel
Artistic Director: Weng Ling
Curated by: Yipeng Jiang
Artists: Shao Fan, Jeff Dah-Yue Shi/Dragonfly, Yong Ho Chang/FCJZ, Zhou Wei, AHA group
Forum host: Zhou Rong
Speakers: Leung Mantao, Liu Jiakun, Lu Minjie, Ma Yansong, Shao Fan, Thomas Shao, Jeff Dah-Yue Shi, Tan Ping, Wang Jun, Timmy Yip, Zhou Wei, AHA group etc.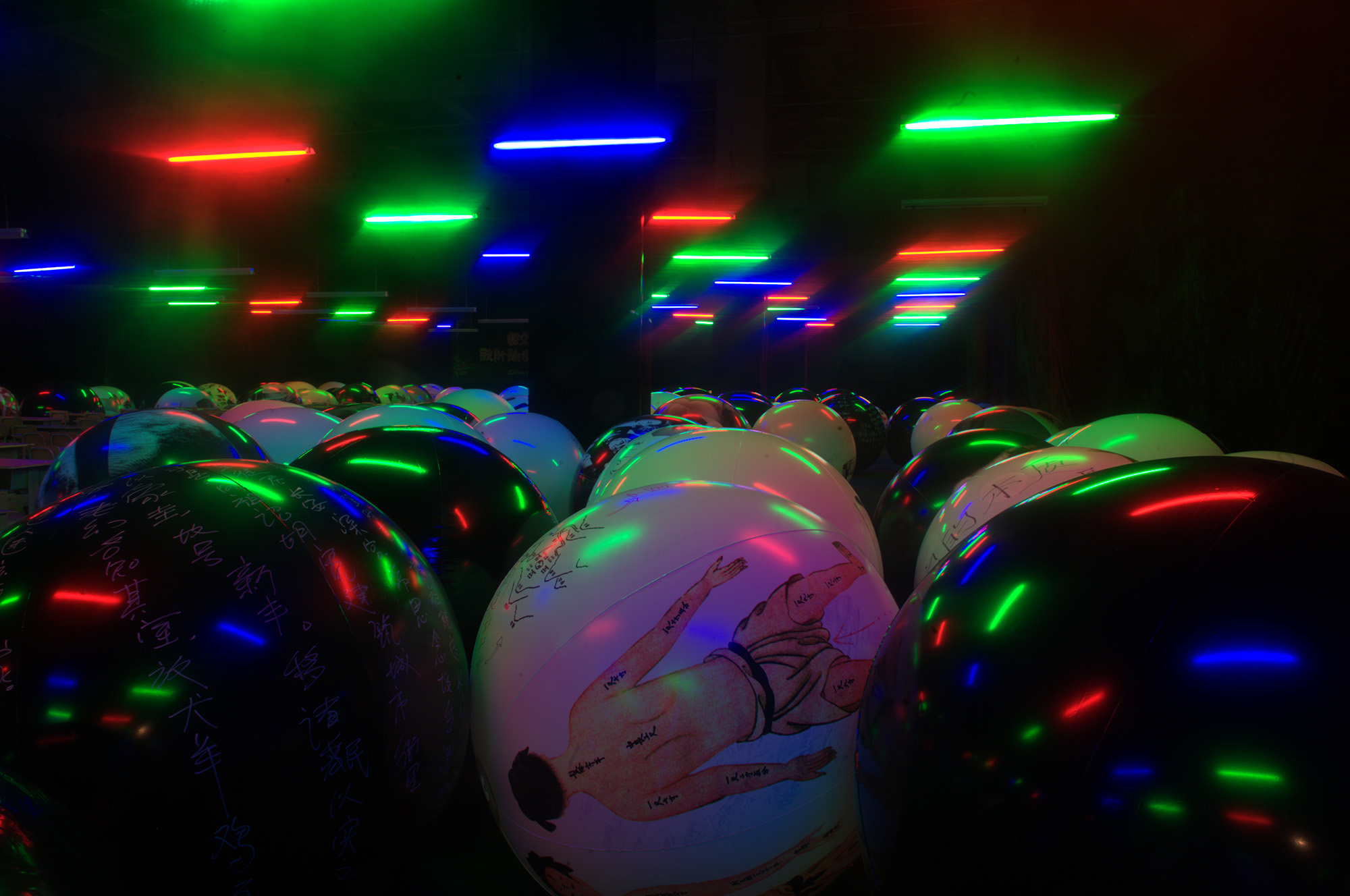 Beijing Center for the Arts (BCA) and FAW-Volkswagen Audi China, who have long been concerned about such issues as urban transformation, architecture and design, will co-organize the "Omni-dimensional Design in China" exhibition and "Arts China · Design Forum II" in March. Based on the context of design in China, both the exhibition and the forum will carry out experimental practices and investigations into contemporary design in China , by mobilizing various "China Energy" in full drive as from different disciplines.. As a part of the "Arts China · Audi Arts & Design Award", the event also serves as another effort by BCA and FAW-Volkswagen Audi China to promote multi-disciplinary and multi-national exchanges, and stimulate profound social innovations.
"Omni-dimensional Design in China" is an art show to transcend the boundaries of the design field and a collaborative effort to break through the bottleneck of the industry. It gathers a host of top contemporary designers, artists and researchers including Shao Fan, Jeff Shi, Yong Ho Chang/FCJZ, Zhou Wei, and AHA Group.
Witnessing the past 30 years of drastic changes in society, economy, culture and business environment, Chinese design, confronted with the urge of the reality as well as expectations, has come to a new turning point. It is now, undoubtedly, remodeling the urban looks and the lifestyle of the Chinese in a manner unprecedented in terms of both extension and intensity. It has endured a wild beginning, when there was full of exploitation, burst of passions, crazy and absurd performances, embarrassed and struggling situations; and now it has turned into a prolific producer in China. Besides, when "Made in China" and "Created in China" are popular nowadays, the whole world displays an interest and expectation for "China" things. Both praise and criticism can be found in the history of contemporary design in China, while opportunities and risks co-exist for its development.
It has now become a necessity to make the investigations: In the context of the already-shaped design field and the "China Fever", what does it take for the current Chinese design to clarify its identity and meanwhile tap its potentials and search for new directions? How to come up with new standards and rise to a higher level when there is an unremitting pressure from the reality which is extraordinary in terms of "speed, size, density and intensity"? How to promote a design industry with "self-awareness" in China in which productivity becomes a healthy force that leads a sustainable social development? In an attempt to address the issues, the exhibition will carry out experimental practices and investigations into Chinese design by mobilizing the "China energy" in full drive as from multi-disciplines such as architecture, space design, product design, graphic design, art and social research.
Based on the subjects of the exhibition, "Arts China · Design Forum II" will lead to further exploration with some of the most creative minds.
Design is, after all, an art representing life, an observation and interpretation of human. The context of contemporary design in China corresponds well with the living reality of human today: the ever intensifying process of urbanization and globalization which recoins the blood ties and geopolitics; the material abundance and the pursuit of quality life which entail the spread of consumerism, absence of faith, confusion of values, deterioration of ecological environment; the information explosion; the tremendous development of high techs; the infinite extension of the virtual world; the dizzy change of fashion……Such a "human" vision gives birth to the variety of design in China. What is the connection between "design" and "human" in our age? Will DESIGN play the role of savior or accessory in face of the coming issues and crisis in the 21st century? What kind of design do we need exactly now in China?
Specifically, the exhibition tends to inspire a retrospective "Omni-dimensional design": in addition to material enjoyment and sensory experience, it aims also to be spiritual, to combine the Chinese culture, Chinese feeling and the demands of the Chinese mind; and finally, it should be able to kindle in the audience's mind an observation and understanding of "matter", the environment and the SELF. A perfect "design" will at any event reveal the "human" fundamentality. And a positive "design" works to shape and lead the human "life". "Omni-dimensional Design in China" denies any superficial "designs" that separate the essence from forms, garish "designs" that despise human and nature, as well as design nonfigurative and overly conceptual without proper attention paid to functioning and details……
Starting from different perspectives such as material language, traditional crafts, innovative technology, cultural inheritance and transformation, participating artists will reflect their respective interpretation of Chinese aesthetics, philosophy, life style and mode of production into their concrete designs and artistic experiences, hoping to bring about some positive thinking and constructive efforts on the full picture of Chinese design from metaphysical to physical aspects, and from parts to the whole.
Yong Ho Chang and his FCJZ has created an architectural installation for the open space high up in BCA, making the first and full application of glass steel in an architecture. Different than the general approach in which the design starts from exaggerated "form", Chang proceeds with "materials", focusing on "R&D". He follows the "overall" process of "material – R&D – technology – building – form". Glass steel is opted, due to its low density and high strength, as well as low energy consumption during production; Yong Ho Chang developed it into a highly recyclable construction material, which is convenient to transport and easy to assemble; which celebrates an economical basic design; and for whose construction, there is no need to use any large machine…… in brief, it is a low-carbon paragon in contemporary technical system. The work is an echo to ancient Chinese wooden-structure in terms of materials and techniques, paying special attention to "lightness" and "recycling", as well as to the harmony between architectures and geographic space.
Jeff Dah-Yue Shi, an energetic product designer and promoter in the state-of-the-art design industries, elaborates a "bamboo design" themed on "altruism, Zeitgeist and social responsibility". The ancient Chinese idea to "Revere the Heaven" and conform to nature is reflected in the whole production process and every detail of the works. Seeking a perfect union of traditional Chinese arts and crafts and modern environmental science, the design makes full of the physical characteristics and cultural meanings of bamboo which is embodied in the natural appearance, LED lamps and the flooring of the bamboo house, as well as in the internal exhibits produced by modern designers. Jeff Dah-Yue Shi desires to formulate an advanced design mentality that is able to inspire and revive the tradition that gets along well with Nature. It is his ambition to shape a new sustainable concept of design.
Shao Fan, a man between contemporary arts and design, celebrating a lasting humor and classical grace, produces a group of Ming-style furniture pieces, or "playthings", as he called them, including "Ming-style beard", "Ming-style horn", "Ming-style foot bone", "Ming-style backbone" etc. He tries to purify, deconstruct and reconstruct Ming-style furniture, adding a surprising content to the simple appearance, strong sense of ritual, finished structure and traditional techniques of Ming-style furniture, so as to create a diverting and lasting appeal. The audience is to enjoy an aesthetic experience that is ancient and classical. Shao Fan cares more for the assimilation of traditional aesthetics than modern innovation. For him, the playing spirit leads the way to the world of freedom. By playing a game of structure, he tries to explore the relationship between the texture and tissue within a "matter". It is from this point of view that he starts to assimilate traditional resources.
Architect and artist Zhou Wei invents a "folding garden". In the exhibition hall of BCA, Zhou offers a vertical research of the spatial possibilities of traditional Chinese gardens. Is there an infinitely marvelous spatial relationship in traditional Chinese gardens in the vertical space? Zhou Wei, in the manner of path researches and conceptual space designs, presents the folding relationship of space and time, and aesthetic experience, which are characteristic of Chinese gardens in a vertical, modern interior space resulting in a successful, modern conversion of traditional Chinese design aesthetics. In the "folding garden", new connections of time and space are produced through compression, transformation and interaction. The audience will have a brand-new space experience that springs from the roots of traditional Chinese culture.
AHA Group, a team made up of young designers and researchers, plays an integrated role of observer, researcher, and artist in the exhibition. With a careful, original research of "the context of design in China today", AHA clarifies the contextual elements that hold an influence over design in China today, and assorts them into three groups, viz. traditional Chinese materials of literature and art, western influences, and modern practice. It adopts an unacademic attitude in literature consultation, survey of cultural phenomena and collection of folklore. As a result of the research, AHA delivers a conceptual piece of installation, offering a new and youthful perspective and practice attitude to the exhibition.
"Omni-dimensional Design in China" and "Arts China · Design Forum II" employs the above-mentioned works to produce a positive reflection and constructive practice of current design, in a way to encourage and inspire the participation of more native resources, thus returning the essence of Design to Human and Life itself. It is destined to confront the various crisis and issues of the Chinese society and urban changes; and it tasked to shatter the fetters now existing in the design industry in China, and become a positive power that will steer the sustainable, healthy development of society.
As a partner of BCA, and co-organizer of "Arts China · Audi Arts and Design Award", "Omni-dimensional Design in China" and "Arts China · Design Forum II", FAW-Volkswagen Audi China, one of the best design brands in the world, has long been promoting the development of arts and design. It is an active booster of reflections concerning future urban development, architecture and design innovations. In the 2010 Venice Biennial, Audi established the "Audi Future City Award", hoping to expand the architects' vision and creativity in regard to architecture and urban planning. The "Arts China · Audi Arts and Design Award" which was initiated in June 2010, is the first major award in China that crosses the fields of contemporary arts and design. It advocates the unique, future-oriented ideas of "Inheritance, Innovation, Lead". For the first time, an award connects the various fields of visual arts, performance and other multi-disciplinary fields. It is all devised to support the idea of "created in China", magnetize general social attention, and promote the development of arts and design in China.