UN-NATURAL
Curators: BU Bing, SUN Tian
Artists: DING Yi, BU Bing, Deshaus, MA Qingyun, HUA Li, LIU Jiakun, CHANG Yung Ho, ZHANG Ke, ZHANG Bin/ZHOU Wei, CHEN Xudong, CHENG Tsai-Tung, MENG Yan, ZHU Xiaofeng, XU Tiantian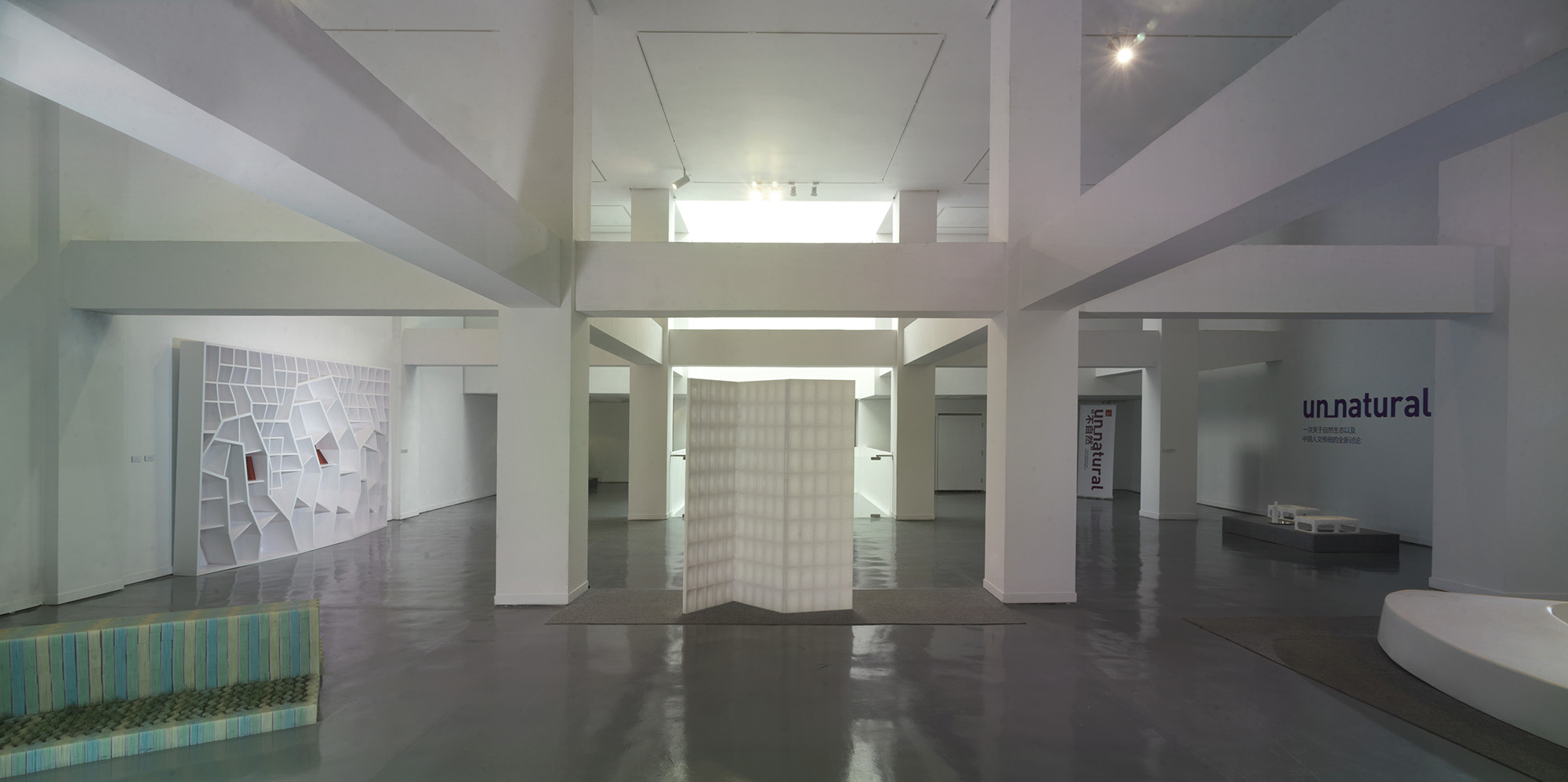 In this exhibition, the very traditional passion of Chinese intellectuals towards nature is displayed in an "un-natural" way. Materials from Formica usually seen in kitchens, laboratories, or fast-food restaurants are here deployed by 14 Chinese architects and artists to build forms of furniture, space, as well as artifacts without any defined purpose.
We choose the theme "un-natural" to rethink ecology and sustainability issues through synthetic material.  Environmentalism often misleads people to prefer natural materials, ignoring the truth that some such materials cannot be replenished. The ethical or aesthetic value of a material can always be argued, but the need for and reality of a lifestyle, maybe un-natural in today's synthetic environment, is inescapable.
Furthermore, "un-natural" is a revisit to the unique subject of nature in Chinese literati tradition such as stone connoisseurship. Although object trouve is replaced here by art work, the passion to interpret nature remains alive in this exhibition.
The following four questions were posed to artists and architects for this exhibition:
Is there any traditional taste shown in your work? If there is, what is that specifically?
Do you have preference for any material? Does the choice between natural material and synthetic material affect your work?
What do you think about the recent topics on ecology and environment? Do you think that is relevant to your work?
The theme for this exhibition is 'Un-natural'. What is your definition of being 'natural' or 'un-natural'?
In response, Artist Ding Yi, Cheng Tsai-Tung, and architect Yan Meng, Chen Xudong, Li Hua presented their private stones, while Xiaofeng Zhu and Bing Bu refer their works to cloud and water respectively. Zhang Bin/Zhou Wei set their private landscape on an exquisite dining and game table. Qingyun Ma's loop and Tiantian Xu's FFF piece are rather abstract and both involve body interactions. Yung-Ho Chang, Liu Jiakun and Deshaus explored the intrinsic beauty of such synthetic material to extremes.